Magnesium Nitrate
Formula: Mg(NO3)2
Molecular Weight: 148.30 g/mol
Melting Point: 89oC
Boiling Point: There is not a boiling point. Magnesium Nitrate decomposes at 330oC
State at Room Temperature: solid
Magnesium Nitrate is an Ionic Compound
Molecular Geometry: Tetrahedral
Description: Magnesium Nitrate is a white crystal. It is very souble in water and ethanol
Uses: It can be used in ceramics, printing, chemical, and agriculture industries. It is mainly used as a fertilizer.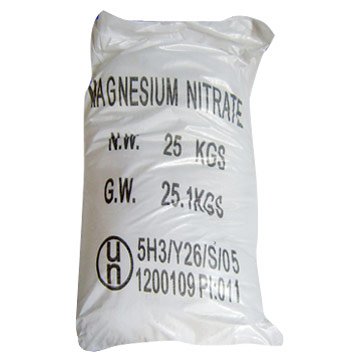 Extra Information: Contact with Magnesium Nitrate with other materials may cause fire. Magnesium Nitrate is harmful if swallowed or inhaled. It can cause irritation to skin, eyes, and respiratory tract
page revision: 1, last edited: 10 Jan 2008 18:34